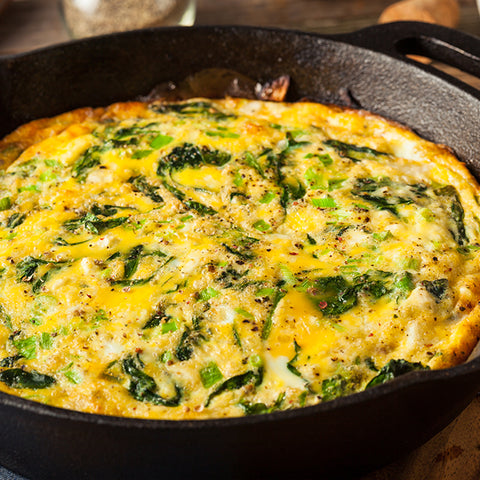 【Ingredient Prep】:180g flour, 1 tsp spinach, 8 mushrooms, 3 slices bacon, 3 eggs, 90g butter, 3 tbsp cream, piece of cheddar cheese, a pinch of salt, A little black pepper
1.Make the pie crust first: Melt 90g butter to room temperature, cut into small pieces. Prepare another 180g flour. Beat an egg yolk in the middle of the flour, add a pinch of salt, 100g butter, 35ml water. Slowly knead into a ball.

2.Wrap the dough in cling film and let it rest in the refrigerator for 20 minutes.

3.During this time we start to prepare the filling: mushrooms, spinach are cut into large pieces and then in Ourokhome veggie chopper, pull the string until it is the size you like. Bacon is also cut into pieces.

4.Put a small amount of oil in a frying pan, add mushrooms and bacon and fry for a few minutes, then add spinach and fry. Egg milk liquid: Beat 2 eggs, add 3 tablespoons of cream, a little salt and black pepper, stir well and set aside.
5.After the pie crust is ready, roll out into thin rounds.

6.Grease the sides of a 6-inch baking pan and flatten the pie crust.

7.Pour in the filling, then pour in the egg yolks. Zest cheese on top of Ourokhome cheese zester and rub in a thick layer of cheese. 8.Then sprinkle on top of the filling. Preheat oven to 390°F and bake for 35 minutes.

8.Enjoy your food.