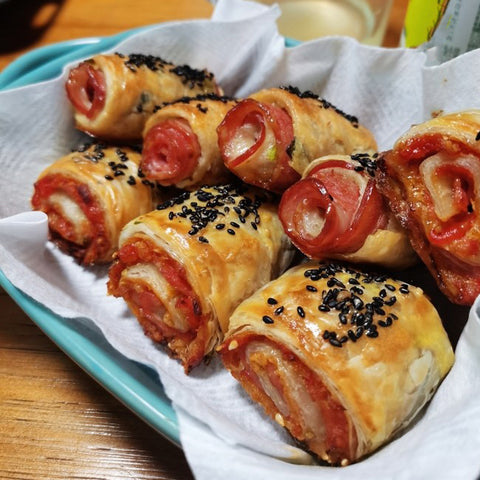 【Food Prep:】Bacon 1 package, 1 egg, taco shells 2, Ketchup 2 tbsp, Meat floss 50g, 10g of sesame seeds.
【Making Steps:】1. Lay the taco shells on the tin, spread the tomato sauce evenly, and then sprinkle the meat pine.
2. Then put two slices of bacon.
3. Roll up the whole thing from one side, put it on kitchen paper and cut it into four sections with the Ourokhome bench scraper. (Because the tinfoil is going into the oven, I'm afraid of cutting through it 😏)
4. Brush with egg wash, sprinkle with black sesame seeds, preheat the oven at 392°F.
5. Put in oven 392°F for 18 minutes.
6. crispy and salty, do afternoon tea is very good.
【Kitchen Tools:】Ourokhome bench scraper